IT HAS been the go-to legal guide for journalists for more than half a century – McNae's Essential Law for Journalists can be found in almost every newsroom in the country and for Manleys Media lawyer James Roochove, the legendary tome, which celebrates its 60th birthday this year, holds a particular significance.
James, who was recently invited to help mark the anniversary, married into the McNae dynasty prior to becoming a media lawyer and so the celebrations were especially poignant.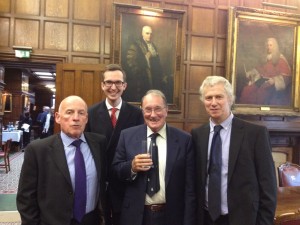 James with Dr Colin McNae (son of Leonard McNae), with authors of the 22nd edition of McNae's Mike Dodd + Mark Hanna
Say the word "McNae's" to any journalist in the country and they will immediately know you are talking about media law. The bookhas been a crucial text for reporters and journalism students for over 60 years, and described as "a bible for journalists" by leading media lawyers.
First published in 1954, the book was originally compiled by Leonard McNae. Since then it has become the must-have addition to every journalist's library, recently launching its 22nd edition, compiled by authors Mike Dodd and Mark Hanna.
James's wife is the granddaughter of Leonard McNae, and her father Dr Colin McNae vividly remembers his tireless work compiling the early editions.
James said: "It was a great honour to be invited along to the launch of the 22nd edition of McNae's and to celebrate the series' success over the last 60 years. It is fantastic that the book remains indispensable to journalists and media lawyers alike.
"It has also been very moving for the McNae family to attend this event and see the high esteem in which the work Leonard started in 1954 is still held to this day. As a media lawyer myself, it is great that they don't just hear it from me what a legendary series of books he started all those years ago".
James helped mark the 60th anniversary celebrations at a reception held by the National Council for the Training of Journalists (NCTJ) and Oxford University Press at Middle Temple in London.
He said: "The current authors, Mike and Mark, deserve tremendous credit and praise for grappling with such a vast array of constantly changing legal issues and principles, yet they have found a way to distil them into a straightforward, easily accessible analysis. It is quite an amazing achievement."
In preparation for the event the NCTJ have produced an overview of the 22editions of McNae's which can be viewed here: http://www.nctj.com/downloadlibrary/McNae%20editions%20booklet.pdf
The 22nd edition of McNae's can be purchased at: http://www.nctj.com/shop/product/product.php?shopprodid=24